January 1, 2021
A Night Of Laughter - Comedy Night Fundraiser (to support St. Philip House)
On January 12, 2021, Chrysalis Center will hold its 9th Annual Comedy Night. Although this years event will be virtual due to the COVID-19 Pandemic, all proceeds raised from this event will benefit St. Philip House, a Chrysalis Center Program supporting individuals living with HIV / AIDS & their families.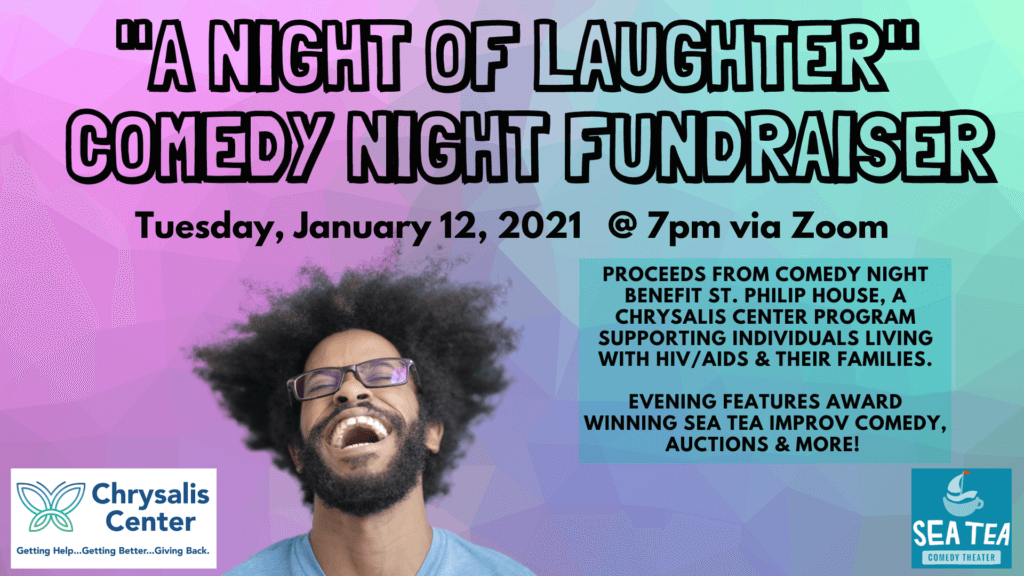 Tickets to this event can be purchased here.
---
Please join us for a fabulous evening of laughter at our Annual Comedy Night to benefit St. Philip House on Saturday, November 23rd 2019!
Chrysalis Center will once again be holding Comedy Night at Nucci's Restaurant, 164 Central Street, Bristol from 7 pm to 10 pm featuring comedians:
Each $50 ticket includes wine & beer cocktail hour (7-8 pm), delicious appetizers and an Italian buffet dinner. Proceeds from this event will be used to support St. Philip House, a program of Chrysalis Center.
To purchase tickets, please click on the link below:
http://events.r20.constantcontact.com/register/event?oeidk=a07egd6yr4d9f3a50b9&fbclid=IwAR19riH-GW1tGHUUGuJBivZH6DiZKM2yN6AGY9TOTNJHvovUyrA5flEXxL0&llr=zigmrcyab